Match Results 2022: Round 5
Venue : Springvale Fishing Lakes, Bevercotes, NG22 0BT. Lake: Newcastle. Date: 19th May, 2022. 14 fished. Weather: 20C sunny
Fishery provides all keep nets and landing nets for every Angler.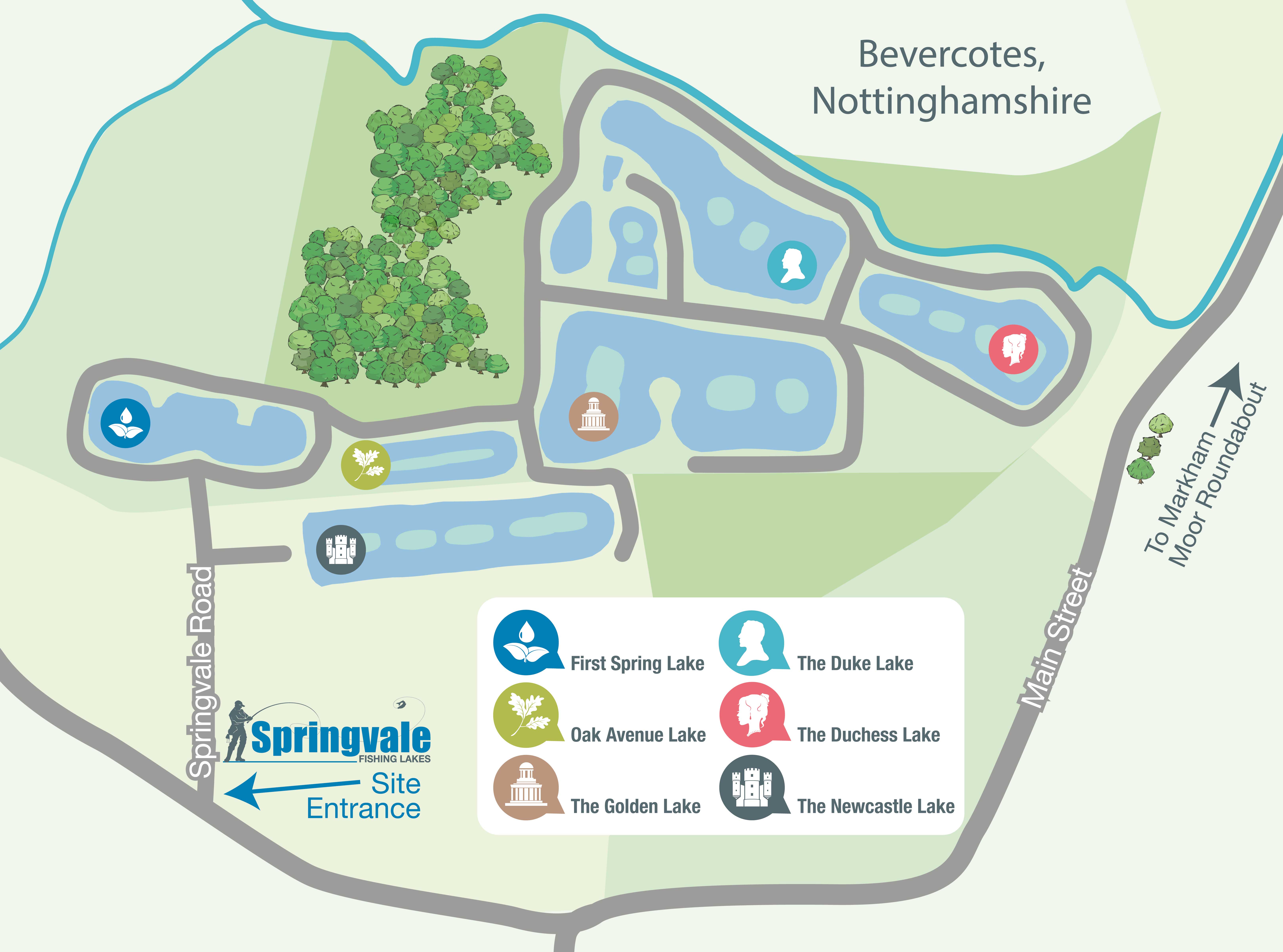 Springvale Fishing Lakes feed pellets only to be used
Ground bait to be applied with a cup or feeder. Only in-line feeders to be used and free running.
Barbless hooks only (maximum size 12)
Maximum pole length - 14.5 Metres
Landing nets to be used on all Fish
Only one rod per person, never leave unattended
No Braid (even as wind beater on the pole)
No floating pole. No Jigga floats. Floats must be used at all times (minimum of 2 inches ) when fishing with a pole, please use float as indicator not elastic (no tight lining). Minimum of 12 inches of line between pole tip & float
Minimum 4 inch hook length
Please note that bait & hook checks will be carried out daily.
Anyone found to using a barbed hook will be banned for life and asked to leave immediately.
Please could all anglers have their current Environment Agency fishing rod Licence available

Please take all litter and unused bait home.
Please do not drive on the grass

Please do not bring any dogs onto the site

Please use toilet facilities provided

Springvale Fishing Lakes will provide nets for each person fishing (please keep silver fish in a separate net from the carp)

No more than 50lb of Fish to be kept in each keep net at any one time.
If during match hours you have to leave, please do not tip your fish back into the lake, please leave securely and inform a senior club member that you are leaving.
Covid-19 Procedure:
At all times keep at least 2 metres (6 feet 6 inches) from anyone else and wear PPE (personal protective equipment) if needed.
Please bring exact money and put it in the bucket provided.
Cost: £12 for match. Peg Fees £8 for any late entrants.
See the onsite notice board for the latest fishery rules
The Draw
The draw will take place at 8:30 am at the fishery (or sooner if all present) and paid on, either at the fishing pond entrance/cafe, details to be confirmed. Covid restrictions may require drawing online via facebook, we will know nearer the date.
The Match
For the safety of everyone, please do not vacate your peg to wander around or visit another angler before, during or after the match.
PUT YOUR NETS OUT TO DRY AND PUT YOUR NETS IN THE LAKE from 9:45am.
Please use keepnets sensibly. The Net limit is 50lb and the fishery provide all nets (keep and landing) and we will weigh you in so use enough nets and be prudent. Silver fish and carp are to be kept in separate nets.
Bait is on sale at the fishery.
This is a 6 hour match, Fish 10am till 4pm.
The Weigh-in
PLEASE DO NOT FOLLOW THE SCALES MAN ROUND WEIGHING IN OTHERS.
We will weigh in using the fisheries equipment. When the scales man arrives at your peg, the requirements are that you take your net of fish out of the water and place your fish in the weigh bag positioned in a TRUG by the side of your peg maintaining 2 metres distance away from anyone else. Should you not be able to take the net out yourself a pre-designated club member will assist you by taking your nets out for you, remembering to maintain the social distance. The scales man will lift your fish from the TRUG and weigh them. The weight will be recorded by the club official. The fish will be returned to the water by the scales man. Repeat this procedure for each net of fish.
The Results
At the end of the match please wait at the fishery car park/entrance for the payout and results announcement. Any winnings will be given to you in a sanitised envelope. The results will be posted on this website sometime after the match if you do not want to wait.